Milwaukee Bucks Draft Former Badger Jon Leuer 40th Overall
Sunday, 26 June 2011 00:42 | Written by Zach Herring
Kevin C. Cox/Getty Images
With the 40th overall pick of the 2011 NBA draft, the Milwaukee Bucks selected former Wisconsin Badgers star, Jon Leuer. Leuer recently worked out with the Bucks and told Tom Enlund of the Milwaukee Journal Sentinel this about playing for Milwaukee:
"It would be cool (being drafted by the Bucks)," said Leuer. "The people in Madison, the Badger fans, have been great to me over the last four years and they're one of a kind. I love my time in Madison. To stay in Wisconsin and stay with these fans definitely would be a great honor."
Well, now Leuer and Badgers fans are all happy! This is a great "fan pick" for Milwaukee. Any time you bring in a player from Wisconsin, Marquette or any other state college, they will carry a nice-sized fanbase along with them.
Leuer is a great shooter for a seven-footer. Along with his high basketball IQ, Leuer will really be able to make an impact for the Bucks this season.
The Bucks selected Tobias Harris of Tennessee in the first round with the 19th pick. Let's hope these two rookies can make quality contributions for the Bucks.
Why Trading for Stephen Jackson Makes the Bucks Contenders
Sunday, 26 June 2011 00:05 | Written by Jeffrey Schmidt
With Michael Redd being hurt for most of the season, it seemed like the Bucks were one player away from making the push to becoming a playoff team. Center Andrew Bogut and point guard Brandon Jennings lead the Bucks last year to a disappointing 35-47 record, with Redd only playing in only 10 games all year.
This draft was essential for the Bucks' future, and I believe they made all the right moves.
The Bobcats sent top scorer Stephen Jackson, 19th pick Tobias Harris and backup point guard Shaun Livingston to the Bucks while Charlotte got the No. 7 overall pick from Sacramento—Congo's Bismack Biyombo—and forward Corey Maggette from Milwaukee. Milwaukee was a team in desperate need of added scoring and also added guard Beno Udrih from the Kings.
Guard John Salmons went from Milwaukee to Sacramento. The Kings also got the 10th pick from the Bucks: BYU's Jimmer Fredette.
This move drastically improves the Bucks and gives them that third option they needed last year. With Charlotte Jackson averaged 18.5 points, 4.5 rebounds, 3.6 assists and 35.9 minutes. The Bucks are counting on Jackson to provide solid minutes and serve as a mentor as younger players continue to develop.
Jackson has had success wherever he has been, and I expect nothing less in Milwaukee. This deal will increase Brandon Jennings assist totals and will give one of their five power forwards someone to dish the ball out to from the post area.
The Bucks are one of the deepest teams at power forward with the likes of Luc Richard Mbah a Moute, Larry Sanders, Jon Leuer, Ersan Ilyasova, and veteran Drew Gooden. Anyone of the five could be the opening day starter, which could easily mean a trade could be eminent.
The Bucks will surprise some people this season, and if Brandon Jennings can spread the wealth and add some scoring input, I have no problem placing this Bucks team as the 6th seed in next years playoffs
Stephen Jackson May Not Be Best Fit for Milwaukee Bucks
Sunday, 26 June 2011 00:01 | Written by Alex Kay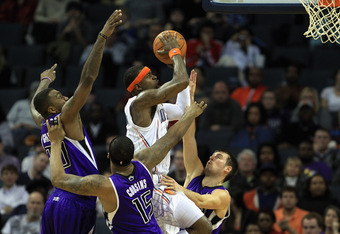 The Milwaukee Bucks turned the 10th pick of the 2011 NBA Draft, John Salmons, and Corey Maggette into Stephen Jackson, backup guards Beno Udrih and Shaun Livingston, and the 19th overall selection in the draft. They worked out a three-way trade deal with the Sacramento Kings and Charlotte Bobcats mere hours before the draft to acquire these assets.
While getting rid of John Salmons and Corey Maggette, who were woefully underperforming for the Bucks, was a top priority, I think losing the 10th pick in the draft was too much for the team. Stephen Jackson is a solid shooting guard, don't get me wrong, and averaged almost 19 points, 5 rebounds and 4 assists last season, but he is aging and can occasionally be a character issue. By all accounts he is a good guy but has done some ridiculous things in his career.
The Bucks would have been much better off taking shooting guard Klay Thompson with their original pick. Thompson is a great prospect who has prototypical height, ball skills, and deep, deep range on his three-ball. A backcourt comprised of Brandon Jennings and Klay Thompson would have been the future of the franchise for years to come.
Now Stephen Jackson will start at the 2, which should help the Bucks to compete next year, but his production will soon start to fade. He can help turn the franchise around by providing leadership and a veteran presence, but he isn't a long term solution and the Bucks may find themselves back in the lottery looking for a 2 guard sooner than later.
Streeter Lecka/Getty Images
On The Shoulders of Giants
Monday, 13 June 2011 00:05 | Written by Chris Carter
May 20, 2011
Bucks great and NBA legend Kareem Abdul-Jabbar spent two event-filled days in Milwaukee last week. On Friday, May 13, Kareem participated in a Bucks tailgate party at Miller Park for a select group of Bucks season ticket holders. He shared his thoughts on today's game, reflected on his time in Milwaukee, the 40th anniversary of the 1971 Championship and shared with fans some insight on his movie making talents.
On Saturday, May 14, Kareem held a special screening for his new movie, On the Shoulders of Giants. The movie documents the early days of professional basketball and tells the story of the best basketball team you've never heard of, a team that broke the color line in the sport of basketball. About the Film | Kareem's website
Saturday night Kareem was the keynote speaker at the Heritage and Hope celebration at the Pfister Hotel. Kareem appeared on behalf of Froedtert Hospital and the Medical College of Wisconsin and is dealing with chronic myeloid leukemia, a rare form of cancer.
"My health is great. I'm in total remission," said Kareem. "Without advances in medical research, I would've only had 3-5 years to live. Something else is going to have to get me. I'm going to be around to annoy you guys a little while longer."
Bucks Draft prospect options
Sunday, 12 June 2011 23:57 | Written by Chris Carter
DRAFT PICKS:
Round: 1
#10
Round: 2
#40
Areas Of Strength:
Milwaukee is strong where it said to matter most: In the middle and at the point, with Andrew Bogut and Brandon Jennings locked and loaded. Defense is not the problem for the Bucks, with coach Scott Skiles grabbing and holding their attention at that end. Mbah a Moute is especially helpful there with his ability to guard three or four spots.
Needs Work:
One of the Bucks' most glaring deficiencies was the lack of an alpha dog in the locker room and on the court. The two guys who ought to fill that role, Bogut and Jennings, don't have the personalities for it, either yet or ever. That's an issue because the other starters and rotation guys (John Salmons, Corey Maggette, Drew Gooden, Carlos Delfino, Ersan Ilyasova) are go-along, get-along types. Oh, and Milwaukee needs scoring.
Two Stats That Matter:
277 -- Games lost to injuries by various Bucks players. Coach Scott Skiles was still pining in March for just one practice with a healthy roster.
62 -- Times Milwaukee held its opponents below 100 points, second-most such performances in the NBA. The Bucks held the other team below 90 points on 30 occasions.
The Way To Go:
The Bucks need more offensive punch from their off-guard and forward positions. One player penciled in for them in a lot of early mock drafts is Alec Burks, a 6-foot-6 scoring guard from Colorado. Another name tossed out has been Tristan Thompson, a lanky forward from Texas.
2010-11 Team Stats:
Offensive: 99.0 (30)
Defensive: 99.9 (4)
Under Contract:
G: Brandon Jennings
G: Keyon Dooling
G: John Salmons
F: Carlos Delfino
F: Drew Gooden
F: Ersan Ilyasova
F: Corey Maggette
F: Larry Sanders
F/C: John Brockman
C: Andrew Bogut
Free Agents:
G: Michael Redd
G: Earl Boykins
G/F: Chris Douglas-Roberts (restricted)
F: Luc Mbah a Moute